THEATER
Linda's Lot Is a Happy One

N e w s w e e k

August 11, 1980
---
More than a few eyebrows were arched when Linda Ronstadt was announced as the lead in the New York Shakespeare Festival production of Gilbert and Sullivan's The Pirates of Penzance, and Savoyard purists quaked further at the casting of teen-idol rock star Rex Smith as her romantic suitor. Had an advanced case of trendiness addled Joseph Papp's mind? Not at all. When nightfall settled over Central Park, the doubts gave way to a communal purr of delight. Gilbert and Sullivan would doubtless have been amazed at the electronic alchemy orchestrated by musicla director William Elliott, but they could not have denied that the rambunctious high spirit of their work was smashingly well served. Liberties have certainly been taken- and for once they are truly liberating.

If Ronstadt and Smith are the bait, Gilbert and Sullivan are the catch. The evening is a delirious demonstration of their generously eclectic gifts: melodies that range from the triumphantly martial to the meltingly lyric; lyrics that skewer their satirical subjects with tongue-twisting dexterity, and a High Nonsense plot whose absurd twists make lighthearted mockery of the Victorian sense of duty. (As a bonus, songs from "Ruddigore" and "H.M.S. Pinafore" have been added to the brew.) The shock is how natural Sullivan's score sounds when reorchestrated for a scaled-down, electrified ensemble containing a synthesizer, a xylophone, lots of brass and only two stringed instruments.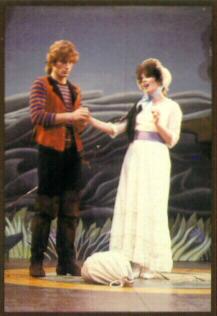 Coloratura: The music in this "Pirates" is almost nonstop: some of the book has been trimmed, and some has been set to music, an artful solution to Ronstadt's limited range as an actress. But she has not dodged the coloratura demands of her role (and Mabel is one of the most demanding parts in the G&S canon): from her entrance trilling "Poor Wand'ring One," it is clear that she is prepared to scale whatever soprano peaks stand in her way. A vision of the demure Victorian in her white dress, Ronstadt fills her part sweetly, and Rex Smith, for all his Elvis-like crooning, cuts just the right figure of earnest ingenuousness as the befuddled Frederic, torn between his fondness for the pirates who raised him and his duty to exterminate them for Queen and country.
But the pop icons wisely let the Broadway veterans steal the show. Kevin Kline's dashingly maladroit Pirate King- Douglas Fairbanks crossed with Inspector Clouseau- sings and dances with a flair the D'Oyly Carte would be right to envy. George Rose milks the virtuoso rhymes of the Major General's songs down to the last drop of wit, Patricia Routledge is a brazen delight as Ruth, the "piratical maid of all work," and Tony Azito's Tinkertoy police sergeant steals the choreographic honors. The entire, improbable cast has been molded into a seamless and utterly beguiling family by director Wilford Leach, whose dizzily inventive production- soon, perhaps, to be moved to Broadway- is dedicated to giving the audience an almost indecent amount of pleasure.
                                   D A V I D    A N S E N
---
Those wet, marmot eyes turn audiences on like a light bulb, and when her smoky voice soars above the staff in a duet with a flute, she sends shivers down the spine. But to hear Linda Ronstadt tell it, rehearsals for her role as Mabel were anything but smooth sailing. "From the very first day," she shudders, "everyone knew I had been thrown into the water with no life jacket." Ronstadt, whose sole prior acting experience consisted of flirting with Kermit the Frog on "The Muppet Show," could barely follow a libretto- "with all those colons, it was too hard to read"- and she kept flubbing her six lines of dialogue until she persuaded Papp to let her sign four of them. Then there was her infernal Arizona accent, which made co-star Kevin Kline fume, "This is Gilbert and Sullivan, Linda- you can't say, 'Git'!" Even after weeks of rehearsals, bits of country rock kept popping out of the primly English Mabel. Giggles Ronstadt, "I couldn't quit tappin' my foot in time to the music and shakin' my ass onstage."

Nearly two years ago Ronstadt mentioned to Papp that she'd like to try her hand at "something small, beautiful and sweet" outside the realm of high-wattage rock belting. "When I perform rock'n'roll, it varies between antagonistic posturing and to-the-bones vulnerability," she explains. "I wanted to allow another facet of my personality to emerge." Ronstadt, who had seen only one Broadway show in her life ("Equus"), finds Broadway music "boring... I'd rather listen to Hank Williams." But she had always adored the music of Gilbert and Sullivan's "H.M.S. Pinafore," which she'd sung as a child. She'd never heard of "The Pirates of Penzance," but she canceled a summer tour to take the $400-a-week role. With coaching, she has turned what Papp calls a "tiny little upper register" into a careening coloratura that earned her a round of applause from the cast during their first rehearsal.

But she hasn't stepped far outside Linda Ronstadt to play the part, modeling Mabel after her own heroine, Snow White. (Ronstadt calls that Disney film "one of the most brilliant pieces of art in the twentieth century.") "Mabel's like a big cartoon and I guess I'm a cartoon character, too," she admits. "I'm always in fast motion."

Three Dimensions: If the show moves to Broadway in September as expected, Ronstadt will follow- a gutsy move for the 34-year-old pop star. "Linda has more to lose than anyone," Papp says. But Ronstadt looks at her brush with operetta as more of an adventure than a risk. "I did it for fun and I'm glad I did, but I've spent all my life trying to learn to be a singer, and I have no desire to finish my career as an actress," she says. "That would be like asking a plumber to wire a building. But I've gained confidence in knowing that now on the rock stage I can handle myself in three dimensions, and even if I never use my upper extension except in the bathtub, I've gained vocal finish. I feel like I've done my homework and I've done my best- and I don't feel that way about myself very often."
                                   B A R B A R A    G R A U S T A R K
---