When the frost has finally withered the pumpkin, not to mention the late spring of Bruce Springsteen, 1975 will be remembered in musicbiz as the year when Linda Ronstadt belatedly happened. Her new single,
Heat Wave
(with the almost equally popular
Love Is a Rose
on the so-called "B" side), may well be her third straight No. 1 hit, and her latest LP,
Prisoner in Disguise
, has just become her second in a row to go platinum- a grand slam never previously achieved by any female artist in history.
Ironically, also this year, the Academy of Country Music finally named Ronstadt its "most promising female vocalist" after several earlier nomina­tions. "How long can you be only promising?" Linda wonders. Eleven years, as it turns out. She has been a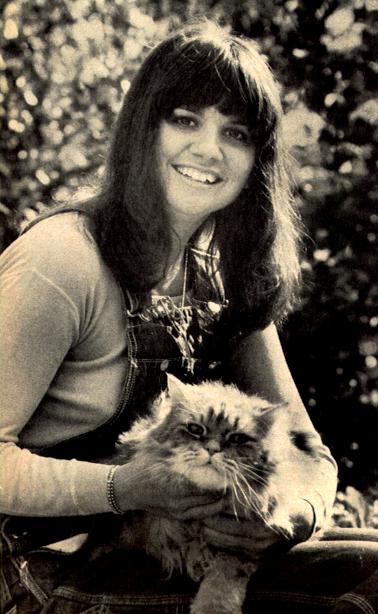 cult favorite and singer's singer almost since the day she arrived in Los An­geles from her native Tucson in 1964, as a 17-year-old high school dropout. Linda started her professional career believing that "everyone who came to L.A. got a hit record. It's a good thing I didn't know better or I'd never have come. I'd have stayed in Tucson in terror and been a housewife with four kids." Instead, she and two boys formed a group, the Stone Poneys, and had a hit, Different Drum, in 1967 just before they broke up for the last time. As a solo artist she scored with Long Long Time in 1970. But mostly Linda made what she described in her highly self-critical fashion as "indifferent al­bums," played nowhere clubs and lazily hung out with other musicians. She watched one of her best backup bands, the Eagles, become a monster act in their own right, and at the same time she was subtly helping to establish the hybrid, now almost predominant, sound of country rock.
Far as ever from housewifery at 29, Linda has never seriously considered marriage or children-despite a passion for buying sheets and towels and, finally this fall, her first house (in Malibu). Previously, she's always followed her heart-with a moving van. Living with her boyfriends for as long as it lasts, Linda kept her belongings stowed in packers'crates, though she says she felt like "an orphan without my books" (mostly light-heavyweight stuff like Tom Wolfe's The Painted Word, the fiction of Yuko Mishima and E.L. Doctorow, and psychology works). Her liaisons used to average about three weeks, but her current man, co­median Albert Brooks, 28, has just broken the all-time Ronstadt record of one year. "I'm so disorganized," she la­ments, "what I really need is a good wife."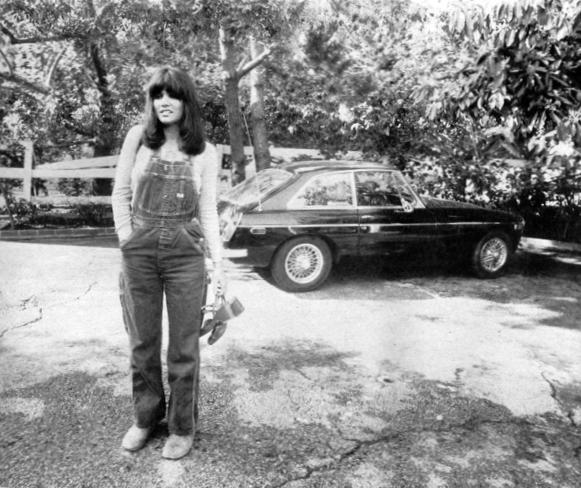 Her father's family were cattle ranchers forced into town during the Depression. Dad owns a hardware store in Tucson, a place that explains her country-and-western roots. She decided to be a singer "at age 2, I'm sure. The main reason was that Catholib school was such an unpleas­ant experience for me. Those nuns still make me uptight. I never learned anything in school. Fortunately my father taught me to read at home, but I still can't add. I had to jump into what I wanted to do right away.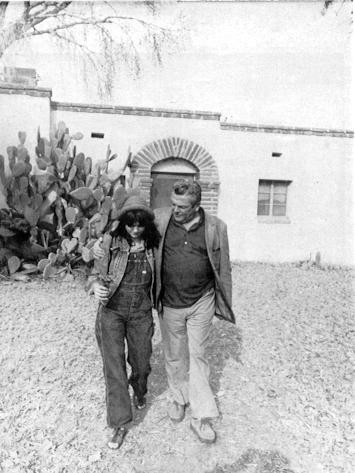 I've never had a job other than singing. If I couldn't sing for a living, I'd be stuck." She start­ed in the bluegrass bag with her older brother and sister on local TV; the Three Ronstadts, as they were called, also did backup singing for commer­cials-"we were the Anita Kerr Singers of Tucson. I'm very country derivative," Linda observes, "but I'm not really country. It's just that I come a lot clos­er than Olivia Newton-John."
It's only been recently under British producer-manager Peter Asher (for­merly a singer himself with Peter and Gordon and now also the master­mind behind James Taylor) that Linda has made her way into big money. As the only major female pop artist who has never written even one piece of her own material ("I'd hate to add to the ever-increasing pile of bad songs"), Linda has concentrated on becoming the interpreter of such composers as Neil Young, John David Souther and Jackson Browne. She idolizes country queen Dolly Parton (who wrote Linda's I Will Always Love You) and is personally close also to such special talents as Maria Muldaur, Bonnie Raitt and Em­mylou Harris.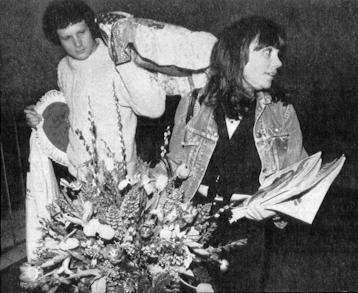 Since Linda progressed from playing the Palomino Club, North Hollywood's Grand Ole Opry, to the Dorothy Chan­dler Pavilion at the Los Angeles Music Center, she goes on an occa­sional afternoon shopping spree and now wears shoes on stage (because she got cold barefoot, she swears). Lin­da still worries about her tendency to chubbiness on her short frame (5'2"), in­termittently goes on diets and regi­mens of jogging and other exercise. "I used to like to take speed, but food is my real addiction," she finds, so she spends occasional weeks at Ashram, a small health spa in Calabasas that serves for her as a fat farm. But Linda now seems to be mellowing and exults that she has rediscovered "what I ever started singing for- I'd for­gotten- it makes you feel good."

ROBERT WINDELER