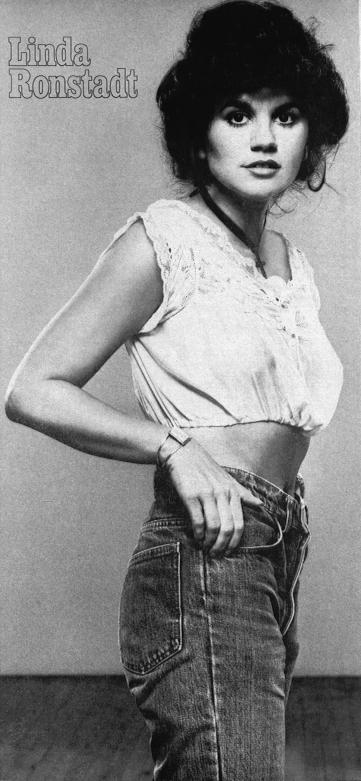 A VAGABOND
GROWS UP AS
COUNTRY ROCK'S
FIRST LADY


If the lady comes on variously as Moonbeam McSwine, Lolita and Little Orphan Annie - or all three - it's only because Linda Ronstadt resists categories. Like Oscar Wilde at the customs office, Ronstadt has nothing to declare but her talent. With her third straight platinum album, three hit singles, a smash European tour and the inevitable Greatest Hits LP at Christmas already gold, Linda is outgrowing her sex-kitten image. But growing into what? She won a "Rocky" as female singer of the year at Don Kirshner's schlock Rock Music Awards. Yet she also copped her first Grammy as best female country singer, beating out her idol and sometime session sister Dolly Parton.

The explanation is country rock, the L.A.-based hybrid that Ronstadt, 30, has helped make the dominant new pop genre of the decade. She is surrounded by evidence of her success. Her former backup band spun into a monster act of its own, the Eagles. Politicians like Jerry Brown and Tom Hayden sought her out for fund-raisers. And for the first time since the hardware merchant's daughter split Tucson at 18, Linda is, as she puts it tentatively, "kind of settled down for the time being." She's unpacked her records in a $225,000 beach house in Malibu and has severed her occasional reliance on both drugs and the mentor-lovers she once carelessly appended to her career. "Nine months, and still not a man in sight," she boasts. (Her last was comedian Albert Brooks.)

Linda has conquered her television terror (her career would be even bigger if she did TV regularly) with a guest shot on Dolly Parton's syndicated series. Recently Linda's musical eclecticism has been spreading to jazz. But the infallible sign of Linda's crossover into self-confidence is that, after recording songs by everyone from Buddy Holly to Smokey Robinson, she finally collaborated on two of her own on her Hasten Down the Wind LP. "I'm not a writer and never will be," she says, "but there's no harm in trying to come up with something and throwing it on the wall to see if it sticks."