---
-------------------- T H E A T E R --------------------
---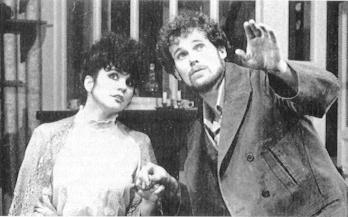 Petit Opera, Not Grand
--------------------------------------------------
La Bohème by Giacomo Puccini
--------------------------------------------------
The irreverent music lover attends this sassy and unconventional La Bohème in a mood for sedition. That does not mean impatience with the soaring lyrical glories of Puccini's music - nobody boos a sunset. But Mimi, the consumptive Parisian seamstress, has been a dying duck since the opera's first performance in 1896, and her fog-witted lover Rodolfo, the poet, has moped melodiously for the same stretch. A certain amount of dust has gathered. Only the fustiest of traditionalists would grouch at the news that Joseph Papp's musical irregulars from the New York Shakespeare Festival have decided to give Bohème an airing out.

These are the same pranksters who four years ago made a rowdy success of the lovable Gilbert and Sullivan warhorse The Pirates of Penzance. Then as now, Papp was the producer, Wilford Leach the director, William Elliott the music supervisor and conductor, and Pop Singer Linda Ronstadt was boss soprano in charge of provoking doleful predictions that she could not possibly handle an operatic lead. Doomsayers to the contrary, Ronstadt trilled winsomely as Mabel.

The new Bohème, sung in a flip, funny new English version by Lyricist David Spencer, is no Pirates-sized smash, but its opening night last week, in Papp's tiny Anspacher Theater, was a modest, almost bashful, success. This is petit opera, not grand, but there is a clear gain in warmth and intimacy at the level of drama. The singers use body mikes instead of heroic rib cages and Pavarottal diaphragms, but they are young and good-looking, and they have no trouble seeming appropriately broke and love-sopped (nor in delivering Spencer's sometimes jarring lines: Marcel, the artist, tells Rodolfo, "I'm freezing my nuts off"). By the time Mimi and Rodolfo have fallen into their first-act clinch, as a mandolin plucks away in the twelve-piece theater band, sentimentalists are dabbing at their eyes.

That is the test: if the hankies come out, Bohème is a success. The shocker was that onlookers misted up not for Ronstadt but for another Mimi, tiny, strawberry­blond Soprano Patti Cohenour. (Lead duties are divided; Cohenour sings four of eight weekly performances; Ronstadt three, and another Mimi, Caroline Peyton, the remaining show.) The sweet­voiced Cohenour and her surprisingly strong Rodolfo, Country Singer Gary Morris, seemed lyrically in love. The other leads, a fine Marcel (Howard McGillin) and a brilliant Musette (Cass Morgan), took fire from them. The night before, Ronstadt and her Rodolfo, David Carroll, had sung at and past each other without making contact, and the rest of the cast was in shock.

The fault was Ronstadt's. Her voice seemed small and uncertain, and she was unable to move from her strong, rock­belter's low register to her silvery high notes without shifting gears awkwardly in her uncertain middle range, where most of Mimi's singing is done. It seems doubtful that her deficiencies are readily curable. She must have known early in rehearsal that the experts had been right to say that a pop singer could not make the leap to Bohème. She might have quit then and sunk a production that depended heavily on her name. That she stayed to take her critical lumps may have been arrogance, or it may have been a rare act of gallantry.