"He's a lotus, that opens and closes
             Notice he won't always let me in. . . "

Carly Simon, 32, views her life differently than either Ronstadt or Mitchell. Married to singer-songwriter James Taylor, 29, for five years and the mother of two small children, Simon has let her career take a back seat to her husband's. "Either I keep the record company happy and neglect my family," Simon explains, "or I put my family first - the sensible thing to do.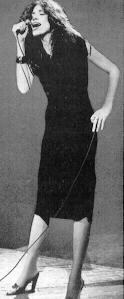 Simon, a self-described "no-good little brat from the upper East Side," was never hungry for a career. A Simon of the Simon & Schuster publishers, she was brought up with the trappings of wealth. Singing was just something she drifted into during the early 60s with her sister, Lucy. "I had been educated in a way that didn't have much space for women's opportunities except marriage," she says.
Despite her huge success with "You're So Vain" and the current "Nobody Does It Better," Simon rarely tours. In addition to her painful shyness and the time it takes away from her family, there are real competitive problems between the couple. "There have been moments of terrible friction based on who is higher on the charts," Simon admits. "We're jealous of each other and proud of each other at the same time. It's more comfortable if James is more successful than I am. Where we run into problems, and where I start complaining about being used and abused, comes from my own willingness to be subservient."
Simon and Taylor are loath to air their difficulties in public. But their relationship is sharply defined in their songs. One Simon lyric accuses: "However much I tell myself/that I'm strong and free and brave/I'm just another woman/raised to be a slave.
"In the beginning," adds Simon, "I wanted all my songs about James to be positive and then I thought, 'That's b---s---. You don't always have positive thoughts about the person you're living with.'"
Although Simon has never garnered the critical approval of a Ronstadt or Mitchell, her sensuous song stylings continue to sell strongly. The album art doesn't hurt either. The Playing Possum cover, showing Simon crawling sexily on the floor in a black slip, received better reviews than the record. That's another area of exploitation Simon promises to keep an eye on in the future.
For now, she's concentrating on finding a way to combine her marriage and her career. "My pipe dream," says Simon, "is James and I traveling around together in a much less high-powered scene. Just a kind of motor home."



    "Rock on-gold dust woman
          Take your silver spoon,
          And dig yourgrave. . ."


Carly Simon may be content with her pipe dreams, but not Fleetwood Mac's souped-up Stevie Nicks. At 29, Nicks is one woman rocker who was always determined to make it.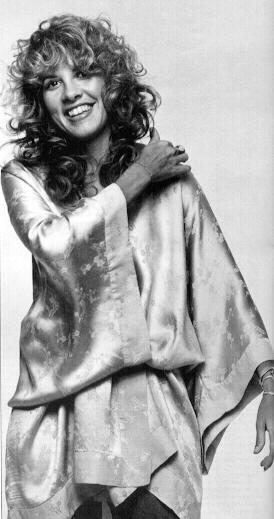 Daughter of a retired Greyhound executive in Phoenix, Nicks dropped out of San Jose State College shortly before she was to graduate to join a rock band called Fritz. "Nobody in the band wanted me for a girlfriend. I was just too ambitious for them."
Nicks did meet the man she would live with for the next six years. His name was Lindsey Buckingham, now Fleetwood Mac's lead guitarist. The romance didn't develop until Fritz flopped and the duo formed Buckingham Nicks. That's when Fleetwood heard one of their tapes and asked them to join his group. The rest is rock history, with Mac's last album, Rumours, selling a whopping eight million copies.




Nicks can take a lion's share of credit for the group's success. Her kittenish stage presence gave the group a much-needed jolt of sex appeal. Christine McVie, the other woman in the five-member band, was another asset, but her songs and stage manner lacked Nicks's off-the-wall punch. It's no wonder the group is worried about Nicks's recent vocal problems. If she were forced to cancel a tour because of illness, Fleetwood Mac could easily lose that particular chemical balance that has finally - after 10 years of only modest success - turned them into the top rock group.
The personal problems among the group were also turned to gold in Rumours, with everyone writing songs about their personal relationships. In "Dreams," Nicks sings of her breakup with Buckingham. She sums up the situation this way: "I couldn't be a comfort to Lindsey. Try working with your secretary in a raucous office and then come home with her at night. See how long you could stand her."
These days Nicks stays pretty much to herself, caring for her strained vocal chords and developing her craft. "In my position," she declares, "I could meet a lot of people just because of the band I'm in. Well, I don't want to meet anybody because of the band I'm in."
For Nicks, and for many other queens of rock, loneliness has become a fact of life to deal with, but not to be defeated by. Some times are easier than others. Nicks refers to a latter time: "I had been to the Rock Awards and we won Best Group and Best Album. Everybody was really blissed out. We came home, my brother and I, in the back of this big, black limousine and I was so lonely it scared me."



    "Nobody knows your melancholy
             mind-little queen. . . "



There are other female rock stars on the way up who have had the path outlined for them by these four queens. Seattle's Heart, fronted by sisters Ann and Nancy Wilson, just had a million-selling album with a hit single, "Little Queen," and they tour incessantly.

"One of the hardest things," 24-year-old Ann says, "is that there are never any women to relate to. Sometimes it takes a girl to relate to another girl. I'm lucky I have my sister." Both Heart women are involved with co-workers in the band, Nancy with guitarist Roger Fisher and Ann with his brother Michael.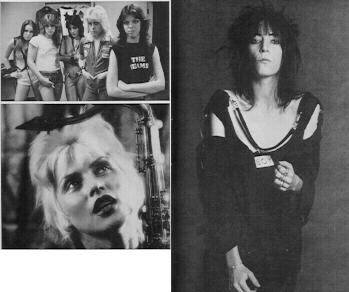 Godmother to the new wave's punk rock, Patti Smith, 31, sees no conflict between rocking hard and being feminine. "Mick Jagger proved you could do it years ago," she jokes. "But art transcends all that stuff, these new girls are more animal in their approach and the animal in you is where you get all your best work from."
Lita Ford, lead guitarist of the all-girl band The Runaways, puts it another way. "You don't have to have muscles to play a guitar."
Nevertheless, most women in rock bands are singers rather than instrumentalists. One exception is Tina Weymouth, who got her job through boyfriend Chris Frantz, New York's Talking Heads drummer. "They wanted a 16-year-old boy, somebody without too many preconceptions. I understood everything they were doing theoretically and conceptually - the only difference was that I was a 23-year-old girl."
Debby Harry, 29, the blond bombshell in the black boots and dress who sings lead in Blondie, says, "You will undergo a tremendous amount of pressure but there's no choice, you have to stick with it."
Says Lita Ford: "I used to look up on the stage and see the bands and think, 'That looks like so much fun!' And now, I get up there and - it is fun!" Since fun knows no gender, today's rock generation may find its kids asking why only men played rock for so long. Considering the diversity and talent of these Queens of Rock, that's going to be a tough one to answer.




---
Thanks to Karen Segboer for providing this article.