In harmony with Hispanic audiences
Joins UA groups for Nelson Riddle tribute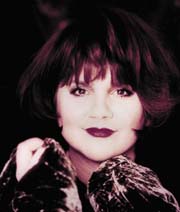 IF YOU GO


* Special guest Linda Ronstadt joins the University of Arizona Symphony Orchestra and Jazz Ensembles for "Unforgettable Riddle: Celebrate the Legacy."
The concert will start at 7:30 p.m. Friday and Saturday in Crowder Hall in the UA Fine Arts Complex (at the southeast corner of Speedway and Park Avenue). Tickets are $75; no discounts. 621-1162.


CAN'T GO?


* Listen to Ronstadt and Riddle on three CDs:


With big hits in rock, folk, country, jazz ballads, and traditional Mexican music, Ronstadt has one of the most diverse audiences of any major recording artist.


"We can probably play the same town twice in a month, and if I went through with different music," she notes, the seats would fill, but not with the same people. In one venue in Orange County, she remembers, the same people came to her rock concerts for years. "Then I did the Nelson stuff and the crowd was much older: 50s, 60s, even 70s and 80s. Then I did the Mexican show, and it was a solid brown audience - people who had never been to any of the other shows."
The musicality of her Hispanic audiences have earned them a special place in Ronstadt's heart.
"There's something about Mexican audiences: They can make more noise than anyone else, but they always make it at the appropriate places, whereas a rock 'n' roll audience tends to make noise at inappropriate places. Their enthusiasm is rich," she muses, "but they are often unmusical in the way that they choose to support you vocally. A Mexican audience knows exactly where to scream and howl, when the music is rising up and it starts to go to that place where it needs to go. They never interfere with the music."

She's "in a swoon" over complexity, craft of the late composer's work
By Jennifer Lee Carrell
ARIZONA DAILY STAR


What the United States gave to the world culturally in the 20th century that was really important," says superstar singer Linda Ronstadt, speaking by phone from her Midtown home, "was the popular song - that and animation."

And in composing and arranging popular songs, she adds emphatically, "Nobody was in Nelson's category. He was a force unto himself."

This weekend, Ronstadt joins the University of Arizona Symphony Orchestra and Jazz Ensembles to honor Nelson Riddle in a gala concert, "Unforgettable Riddle: Celebrate the Legacy."

"This is a tribute to Nelson," says Ronstadt, who was one of the last artists to record with Riddle. "It's not about me."

Maybe not, but a fair number of people will no doubt crowd into Crowder Hall to hear her sing five songs, including "Little Girl Blue," "I Get Along Without You Very Well" and "Lush Life," that represent her favorite work with Riddle. She'll also join the UA a cappella group nUAnce, directed by Jim Taylor, for two numbers.

"They were going to be in the show anyway," she says, "and I thought, 'Well, I'll be jealous if I don't get to sing with them.' "

Riddle, who died in 1985, was one of the great composers and arrangers of popular songs. Nat King Cole's hits "Unforgettable" and "Mona Lisa" were Riddle's work; such legends as Frank Sinatra, Rosemary Clooney, Sammy Davis, Jr., Ella Fitzgerald and Peggy Lee also frequently came knocking at his door.

Through a generous bequest from his widow, Naomi, much of his estate as well as his archives have passed to the UA School of Music and Dance. The contribution funds, among other things, the Nelson Riddle Endowed Chair in Orchestral Studies.

Ronstadt's route to Riddle was long and circuitous. After gigging on Fourth Avenue with her sisters in a band called the Three Ronstadts, the 54-year-old Tucson native got her Los Angeles start in a folk band called the Stone Poneys.

She went solo in 1968, with a backup band of crack musicians including Glenn Frey, Don Henley, Bernie Leadon and Randy Meisner, who eventually struck out on their own as the Eagles. She has cut more than 30 albums ranging - with great success - from rock 'n' roll to country, folk, soul, Latin, mariachi, opera and popular standards.

The song "You're No Good," on the 1974 album "Heart Like a Wheel" went No. 1 on the U.S. pop charts, while her version of Hank Williams' "I Can't Help It," on the same album, won her a Grammy for best female country vocal.

Reflecting on her long, winding road toward Riddle, she says, "In the late '60s, I started listening to 'For Only the Lonely'" - a record that she calls "just staggering."

It was, she says, "one of the things that kept my mind open when doors were slamming in popular culture about any kind of music that was not what was narrowly defined as hip" - a status, she says with earthy objection, that eventually came to be controlled in great part by the magazine Rolling Stone.

In the early '70s, she and songwriter John David Souther played that record "all the time. We dissected it - listened to the orchestrations, and exactly what the colors were doing."

Then, while singing in "Pirates of Penzance" on Broadway, she began to grow restless, finding both Gilbert and Sullivan and pop music limiting in different ways. "I wanted to do something with those parts of my voice that I had never been able to use. Rock 'n' roll, to be honest," she explains, "is rarely written for vocalists. It's written for some guitar player to mark time while he waits to take an extra cool guitar solo - and so it's boring to me."

Messing around with Atlantic Records producer Jerry Wexler's jazz band, she finally came to Riddle's music as a performer.

"When I saw how much vocal facility

was written into it," she says, "it filled me with such a desire to sing it." His songs, she says, "just put me in a swoon. I'd always loved them, but to sing them was a whole other level of falling in love with them."

While Ronstadt was recording in West Los Angeles, Souther persuaded her to call Riddle. Otherwise, she says, "I don't think I would've had the guts to do it."

When she finally made the call, she remembers, she was "flabbergasted when he said he'd just come right over, and he did" - in 10 minutes flat.

"I had told him over the phone some of the songs that I wanted to do. One was 'Guess I'll Hang My Tears Out To Dry,' that Sinatra had recorded, and he brought the original sketch that he had recorded for the Sinatra recording," she says, still filled with amazement.

"People don't like to be made into a museum object, an icon while they're in the room with you," she says with a laugh, but "it took all my strength to not just drool on him."

She knew right off that they would work smoothly together, and the two agreed to meet at her house the next day.

"I woke up thinking, 'My God, I'm the luckiest girl in the world. I get to get out of bed today and work with Nelson Riddle.' I liked it so much I really didn't ever want to stop."

Both her former manager, Peter Asher, and Joe Smith, former president of Elektra Records, saw Ronstadt's decision as a potentially disastrous career move, and told her so.

"I just didn't hear it," she says. "It was just noise going on in the background." To their credit, she notes, once they saw that she was determined, they both worked to help make her dream fly.

Now, it's apparent that she was at the cutting edge of a resurgence in the popularity of music from the '30s and '40s.

"There's been a kind of a fatigue," she says, from the "corporatized music" so often being produced these days - "the way it's created, the way it's rammed down our throats.

"There's a lot of it that just isn't very musical. As (bluegrass legend) Bill Monroe would say, 'There ain't no music in that.'

"Kids coming into college are desperate for complexity and craft and excellence in their music," she says, noting that jazz and swing music have become "the trendiest thing on college campuses."

"The U of A," she says, "has got some spectacularly good people" in these fields. Jeffrey Haskell, with whom she's worked with a lot, "is just a monster, he's so good." In addition to being a really good arranger, "he's a fabulous singer. He can sing anything, in any range. He can sing in my keys, it makes me so mad."

Jim Taylor, she says, is another monster. "I've hardly ever stood next to somebody that has that kind of music in their body. … His pitch is incredible, his rhythm is precise as can be, and he's got that groove in his body."

Ronstadt worked with Haskell, Taylor and UA musicians last summer while recording her new Christmas CD, "A Merry Little Christmas" (Elektra, $18.97).

"There was something perversely wonderful about singing those beautiful songs about ice and snow right in the middle of the summer here, sweating it out over there in Holsclaw, because we had to turn the air conditioning off - naturally - to record. We were definitely aware that it was summer in Tucson."

Her relationship with the School of Music has been a delightful surprise to Ronstadt. "Who would have known it? I did not come out of an academic past.

"I've always been a reader, but I just hated school, and if I had my life to do over again, I wouldn't go. I'd stay home and read a book."

Even so, she adds, the university's walls ideally should be permeable. "The community at large should be able to drift through and make use" of its collections and energies and teaching powers. "The U of A has functioned beautifully for me in this way," she says. "To be able to integrate myself into the music department here has been a wonderful thing."

* Contact Jennifer Lee Carrell at 573-4114 or at carrell@azstarnet.com.