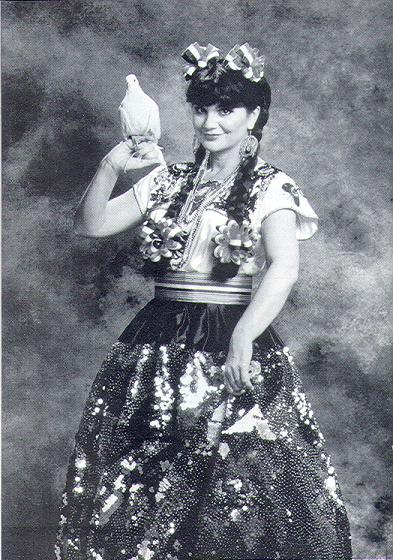 Don't get her wrong. Linda Ronstadt loves what she does for a living and is grateful to be a professional singer. With a career spanning more than two decades and more than 40 million records sold, her fans seem grateful, too. Still, she can't help thinking that some of the joy of making music is sacrificed when music is left to professionals. Ronstadt insists that homes should be filled with families making music together, just as hers was.
"Music shouldn't be something you hear on TV or on records," says this one-time pop diva who has filled concert halls around the world. "Mothers should sing to their children. Every child loves mother's voice best, anyway."
With the release of her recent album, Mas Canciones (More Songs), Ronstadt offers another tribute to the Mexican music of her childhood, the songs she heard at home while growing up in the Southwest. A sequel of sorts to 1987's Canciones de mi Padre (Songs of My Father), the album finds Ronstadt singing with a mariachi orchestra and with her brothers Pete and Mike Ronstadt. The intimate trio setting is close to the way she learned these songs as a child in her living room.
"We took these songs we loved as little children and made them sound a little more professional than they did in the living room - but not much," she says with a laugh. "At parties when I was a kid, you sang in Spanish. I thought Spanish was the language you sang in, and English was the language you spoke in."
Raised in rural Arizona just outside Tucson (the city where her brother Pete, who Linda says was the most musical of the Ronstadt children, once served as chief of police), Ronstadt traces her lineage back to the days when the region was still part of Mexico. As far back as the 1500s, her father's ancestors worked as ranchers in Sonora, Mexico. (The German surname comes from a grandfather who married into the Mexican family.) The family remained rooted, but the border frequently shifted, and after the mid-1800s, portions of Mexico became part of the United States.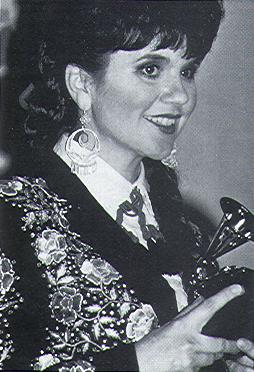 "Linda always understood her lineage better than anyone else I knew," says Patricia Casado, Ronstadt's close friend of more than 20 years. "I made my first pilgrimage to Mexico with her about four years ago. There we were in our late 30s, exploring who we are," she says. "I've always been around it [the culture], but the more you're around it, the more you take it for granted. I grew up bilingually, but suddenly this whole new world opened up for me."
Although Mexican music was an earlier and more natural attraction to Ronstadt, it was the fusion of rock and country music that made her one of the most popular female vocalists of the '70s. Raiding the songbooks of the Everly Brothers ("When Will I Be Loved?"), Buddy Holly ("That'll Be the Day") and Motown ("Heat Wave," "Ooh, Baby, Baby"), her recordings frequently climbed to the upper reaches of the charts.
Since then, Ronstadt has concentrated almost exclusively on singers' songs, wherever she might find them. And she has found them mainly in the music of her childhood. What unites most of the various projects Ronstadt has devoted herself to during the past decade is that all have their roots in her earliest musical experiences.
Her early '80s stage and film work in Gilbert and Sullivan's The Pirates of Penzance had its origins in the life of her grandfather, who wrote arrangements for the operetta in the late 1800s. Her subsequent trilogy of Sinatraesque standards recorded with famed arranger Nelson Riddle were the songs she heard in her childhood, the ones her mother loved. Her mid-'80s Trio collaboration with Dolly Parton and Emmylou Harris was a return to the homespun "mountain music" that predated her slicker country rock stylings. With the title of Canciones de mi Padre, Ronstadt left no doubt that she was bringing it all back home.
"I think most musicians have this feeling that you kind of have to go back in order to go forward," she says. "The times that I've been able to really propel myself forward were the times that I went back and explored the forms that came before, and tried to reinforce my base."
In many ways, Ronstadt sees her Mexican projects as being similar to the albums of standards she recorded with Nelson Riddle, 1983's What's New? and two subsequent efforts. Those albums legitimized the music sung by the likes of Frank Sinatra and Tony Bennett for an audience that previously might have dismissed it as middle-of-the-road schmaltz. They brought Riddle more media attention than he had enjoyed during his years with Sinatra, and paved the way for other projects featuring such standards as Natalie Cole's recent Grammy-sweeping Unforgettable.
In similar fashion, both Mas Canciones and its predecessor rescue Mexican mariachi music from the clichés inspired by many restaurant bands. Co-producer and arranger Ruben Fuentes, "the absolute king of that music," Ronstadt says, functioned as her mentor, much as Riddle had done for the previous albums.
While few of her recent projects have seemed to brim with commercial potential, her recordings have proven to be popular successes as well as artistic ones. They have earned Ronstadt higher critical regard than ever, establishing her as someone willing to follow her heart rather than the dictates of the marketplace.
After her first Mexican album, Ronstadt returned to the musical mainstream on her own terms. With 1989's multiplatinum, Grammy-honored Cry Like a Rainstorm, Howl Like the Wind album, she showed how much her work on standards with Riddle had improved her phrasing, and she introduced the vocal artistry of Aaron Neville to a new generation of listeners. After her duets on that album with Neville (the New Orleans warbler and member of the Neville Brothers), she proceeded to produce his Warm Your Heart album, which earned him a Grammy nomination.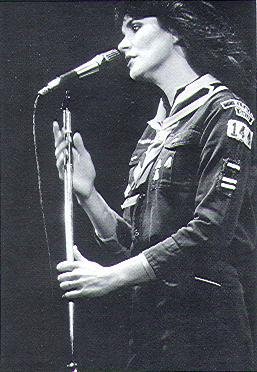 While continuing her association with Neville, whose next album she will likely produce, Ronstadt otherwise has no further plans to record conventional, contemporary material on her own. She also insists that she will never again mount a multicity concert tour featuring her earlier hits. She hopes to present the material from Mas Canciones as she did for the Broadway production of Canciones de mi Padre.
"I think I used to sing in English, but I can't remember," she says. "This is what I sing." Ronstadt's commitment to Mexican music and culture is reflected in a story told by her friend Casado.
"When my father was dying, Linda was in the [recording] studios and she called every day to see how he was doing," Casado recalls. "Suddenly, she decided to bring four mariachis into the hospital to sing for my father. It was a cancer ward, so when four guys and Linda showed up in costumes, they were kind of noticeable.
"But she got past security and they gathered round my father's bed. Linda started to sing and she went all out," Casado says. "You could hear her two buildings over as she sang three of her favorite songs right to my old man. It was beautiful." .