Shelve the big band arrangements. Tuck the lamé sheath dress into the closet. Close the lid on those Spanish guitars and say goodbye to roots-rock olé (thanks for the canciones, Dad). Let's welcome Linda Ronstadt back to the world of pop.

Ronstadt has been living every working musician's dream: Play what you want while the public and your label support you, no matter how far into the musical jungle you trudge. Still, even musicians leading the good life need to come back to their core audience and say hello, and with this album, Linda seems to be saying, "Hi, I'm back; didja miss me?"

Cry Like a Rainstorm is no fooling around. This is a big album, big in scope and sound: 12 quality songs by six sets of quality songwriters, including Karla Bonoff, Jimmy Webb, and Issac Hayes/David Porter. Onboard are a load of L.A. session stars- Lee Sklar (bass), Russ Kunkel and Carlos Vega (drums), Robbie Buchanan and Don Grolnick (keyboards), and Dean Parks (guitar). Add the "Skywalker Symphony Orchestra" and the Oakland Interfaith Gospel Choir, each with more than 50 members, and cut the affair at George Lucas' Skywalker Ranch post-production studio, with Peter Asher producing and George Massenburg recording and mixing. . . . Whew! What a cast.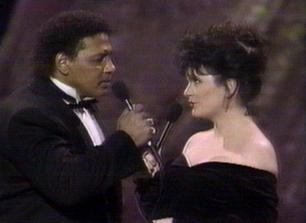 Ronstadt gets substantial help on four songs from Aaron Neville, the tenor from heaven. Their vocals blend beautifully. Listen to how closely matched are their enunciation, phrasing, and feel ("I Need You"; "Don't Know Much"). Neville is a wondrous singer, but Ronstadt is fully able to contribute, not simply hang on for the ride. She's learned her lessons well, singing big band and mariachi music. Her phrasing has been refined; she no longer has to worry about where the beat is but can play with it, moving ahead or hanging back. She even flows easily into falsetto and back ("Adios," featuring Brian Wilson's creamy multi-tracked background vocals).
Earlier on, I mentioned this album's bigness, a natural ambience and power not often found in pop music. Sometimes this grand scale creates drawbacks. It's difficult, if not impossible, to sound intimate and personal with scores of players and singers working away behind you. Eleven of the 12 tracks use the orchestra, two use orchestra and choir, and all this power can knuckle the lyrics into submission. It sometimes sounds as if Ronstadt's vocals were recorded last, with the singer hearing all the tracks in her headphone mix; her voice seems to be pushing too hard in order to compete with the accompaniment- going for power when understatement was needed.
The final piece in this excellent jigsaw is engineer, mixer, and sound designer George Massenburg. This guy is making unbelievably clean, powerful recordings: If anyone is presently doing better recording work than Massenburg, let him please step forward. He uses natural and electronic ambience, for instance, in near-perfect combination. Plus, he has mixed a masterpiece: Every instrument, acoustic and electric, can be heard clearly, even when all parts are playing at once.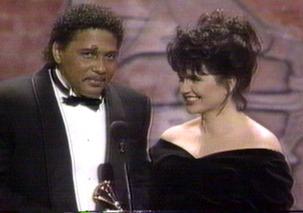 The more you listen to Cry Like a Rainstorm, the more you realize that of greater importance than Ronstadt's return to pop/rock is the enormous musical development that has taken place in this woman. Ronstadt, Massenburg, and Asher have put together a candidate for 1989's best album.