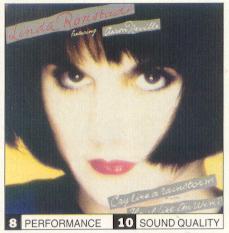 Elektra 60872-2 (DDD) 1989 Disc time: 42:57

America's sweetheart, big-voiced Linda Ronstadt, finally has decided to return to the mainstream. The lushly recorded Cry Like a Rainstorm, Howl Like the Wind shows that her pop sensibilities have matured a great deal since she embarked on her musical mystery tour following 1983's Get Closer. Rather than music to toss on and rock out to, however, this is sophisticated pop- music to experience fully and completely, like good brandy.

With the help of New Orleans vocalist extraordinaire Aaron Neville, Ronstadt explores songs by Jimmy Webb, Karla Bonoff, and Paul Carrack. The songs are great, but occasionally weighed down by heavy-handed arrangements. The same criticism mars Ronstadt's own singing- she's often restrained by the nature of the arrangements. It's as if she can't cut loose and fly free because she's got this entire orchestra behind her, struggling to keep up.

Still, it's a small complaint in the face of it all. The feisty "So Right, So Wrong" is a muscular workout that punches up the collection, while the duet on "When Something Is Wrong with My Baby" is supple and fluid, dripping with emotion and implied heartache. Other standouts include the reflective "Don't Know Much," where the contrast between Ronstadt's deep, rich alto and Neville's soaring soulfulness are played to their best advantage; the subtle "I Keep It Hid," which blossoms to full-tilt Ronstadt vocalizing; the haunting title track; and "Shattered," a short, sweet song of romantic fallout and the devastation it causes. Easily the simplest, sparest song on the disc, it makes you pause to appreciate the voice that signifies heartache and disappointment to an entire generation, a voice getting better with age.

Linda Ronstadt will probably make better pop records before it's all said and done. But Cry Like A Rainstorm certainly is a strong reentry to the world of pop music and should be noted for the interaction between two superb vocalists finding out about each other.

                                           -Holly Gleason