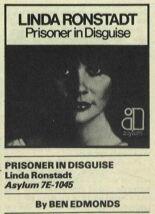 An unhealthy portion of the attention devoted to Linda Ronstadt over the years has dealt with her supposed physical attributes at the expense of her music. Well the time has come to set the record straight once and for all: Linda Ronstadt ain't that hot-looking. But she can sing just fine.
Most of this album supports the latter contention. Her voice has neither an impressively expansive range nor any startling expressiveness; what it does have is an entrapping uncertainty that somehow pulls out of you the desire to believe what she's singing. Such a quality obviously comes across on ballads, but it also shows when she decides to cut loose. Even at the height of her power you still get the feeling that she's capable of losing her footing at any moment and her tightrope walk contributes to her ability to hold your attention. Linda Ronstadt is an involving singer above all, and her several excellent performances on Prisoner In Disguise should maintain the level of involvement she achieved with Heart Like A Wheel.
Still, this record makes me uneasy. One reason that it took Linda so long to finally break through was that pop audiences didn't really care to know about Country Linda Ronstadt. And, despite her platinum bust-out of last year, they still don't. "You're No Good" was swallowed whole because it was a pop record. And, "When Will I Be Loved," though it came from a basically country direction, still relied on a rock & roll staple...strong electric rhythm guitar...to put it over the top. That's why "Love Is A Rose," a Neil Young song chosen as the first single off this new LP, flopped. Instead of that electric rhythm we get a fiddle, and as good as the song is, if AM audiences had an affinity for fiddle music that extended beyond the occasional John Denver novelty, then artists like Emmylou Harris would be huge stars instead of merely predictions. So DJs flipped "Rose" and found an updated "Heat Wave" (part of her live show for years), which looks like it could be as big as the two hits off her previous album. It's a good version which actually sounds better over a car radio than on your turntable at home) reconfirming the timelessness of Motown, but it presents a disconcerting note.
Not being a writer, Linda's success has been as much with the choice of her material as with its execution. Her last three hits (if you count "Heat Wave") have all been remakes of songs that had previously achieved some measure of popularity. The only other surefire single possibility on the album, "Tracks Of My Tears," continues the chain. All of which makes Linda Ronstadt a revivalist to a large segment of her audience (the newcomers) and, however excellently she fills the role, the fact remains that there's much more to Linda Ronstadt than that label accounts for. (It should be added, though, that Peter Asher's production, while consistently superior, is superb on these tracks; he's got the soul of a rock & roller, something his work with James Taylor and Linda's hasn't always allowed to shine.)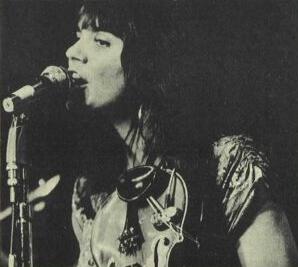 To put herself in focus across the board, Linda needs more material worthy of her consideration by contemporary writers, and this is where Prisoner In Disguise falls down. She gives, for example, an inspired reading of a piece of material, Dolly Parton's "I Will Always Love You," that's merely adequate; ditto for James Taylor's "Hey Mister That's Me Up On The Jukebox." These aren't bad songs; they just don't have the impact necessary to balance the "Heat Wave" element of her presentation. So what we're left with is an album that, although solid, treads water. A pattern emerges here...songs by Lowell George, J.D. Souther, James Taylor, Anna McGarrigle and a couple of covers of classic pop/r&b tunes...and it's only a matter of time before a pattern becomes a formula, and a formula becomes tedium.
When she begins to scout material again, may we suggest: John Fogerty's, "Almost Saturday Night", Jimmy Webb's, "Just This One Time", or "It's A Sin", Christine McVie's "Come A Little Bit Closer", Bob Seger's "Beautiful Loser", Tim Moore's "Charmer" or "I Can Almost See The Light," Fred Tackett's "Dance To The Radio", or Patti Dahistrom's "Louisiana." Those came straight off the top of my head; you probably have lists of your own. So why don't you write to Linda, c/o Asylum Records, and tell her what songs you'd like to hear her sing. I'm sure she'd appreciate the input.