We Ran
Linda Ronstadt (Elektra)
People Weekly, July 13, 1998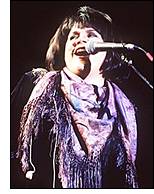 She has sung to the beat of many different drums since making her 1960s debut as the Stone Poneys' sexy chanteuse. Indeed, it is easy to forget that Ronstadt, who spent ensuing decades dabbling in genres as diverse as big-band standards, Broadway musicals, mariachi and even light opera, is one of rock and roll's most richly endowed vocalists. Here the veteran singer, who'll turn 52 on July 15, harks back to her country-rock roots, lending her ringing, full-bodied voice to ballads by John Hiatt ("When We Ran"), Bruce Springsteen ("If I Should Fall Behind"), Bob Dylan ("Tom Thumb's Blues") and Naomi Neville ("Ruler Of My Heart"). Joined by longtime Southern California studio guitarist Waddy Wachtel, ex-Eagle Bernie Leadon and members of Tom Petty's Heartbreakers, Ronstadt is at her soulful best on those gems as well as on Hiatt's honky-tonk ballad "Icy Blue Heart."And on the mournful migrant's lament "Dreams of the San Joaquin," she mines the emotional lode of her own Mexican heritage.
Bottom Line: Rich, bluesy country rock from a protean vocalist
-- STEVE DOUGHERTY