Back in the Fifties, something happened to popular music: a generation of vocalists went from hot to warm. When singers like Frank Sinatra, Peggy Lee, and Ella Fitzgerald did swing, they did it with sophistication. It was an era of great arrangers working with the tools of both the jazz band and the string orchestra- arrangers like Gordon Jenkins and Billy May. But the warmest, most sophisticated romantic of all was Nelson Riddle. Riddle's arrangements for Sinatra, Judy Garland, Nat "King" Cole, and Fitzgerald were breathtakingly sensuous, yet they were models of taste, elegance, and subtlety. His string arrangements are still legendary, and his classic albums with Sinatra ("Only the Lonely," "For Swinging Lovers") and other great vocalists of the time are archetypes of American music as important as jazz or the Broadway musical. Like all good things, this golden era eventually ended. Romance turned to mush as the Bert Kaempferts and Ray Conniffs made "orchestra" synonymous with "mood music." Suddenly, warm wasn't cool.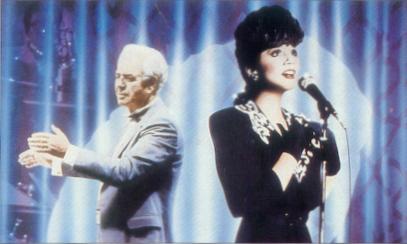 That's why we owe a debt to Linda Ronstadt. "For Sentimental Reasons" is the last- and, I think, the best- of three albums Ronstadt recorded with the late Nelson Riddle. In 1983 she lured Riddle out of semi-retirement to record "What's New," which was in part a tribute to his classic Sinatra arrangements but also a standard-setting session in its own right. They liked working together so much that they recorded a second album, "Lush Life," which picked up the tempo; if anything, they got better. Their third recording was Nelson Riddle's last.
In its range of moods and tempos, "For Sentimental Reasons" is the best balanced of the three records. More than that, though, Ronstadi and Riddle seem to find the true emotional center of these songs­ exactly the right sound, right pace, right inflection. Not that "What's New" and "Lush Life" were ever very far from the heart, but in the last set Riddle's fabled strings and woodwinds achieve even greater delicacy and depth of feeling, if that's possible. And Ronstadt's satiny soprano gives every note its emotional due: hope and innocence in When You Wish Upon a Star (a song that always seemed silly to me until I heard this version- now I believe it), dreamy vexation in Bewitched, Bothered and Bewildered, a brave front in I Get Along Without You Very Well, playfulness in Straighten Up and Fly Right. And then there's 'Round Midnight, the most powerful song in the album: how Riddle got so much sadness into those strings without seeming maudlin or melodramatic was part of his magic.
What could have been merely a fling with swing turned into a commitment for Ronstadt- perhaps a risky one, coming at a time when she was the reigning queen of rock. So if this review comes off sounding like a thank-you note, it is: thank you, Linda Ronstadt, for getting a pop-music giant to lay down some of his best work when there wasn't much demand for it, for giving us a whole new set of definitive performances, and for reawakening our cars to a rich era in American popular music.

                                           Mark Peel