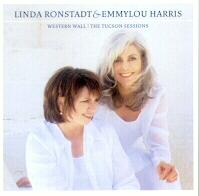 Linda Ronstadt
and Emmylou Harris

WESTERN WALL-
The Tucson Sessions


Here's a strangely static album by two thirds of the vaunted Trio. Without Dolly Parton on board, Linda Ronstadt and Emmylou Harris think themselves into a corner with this art-folk project. The song selection on Western Wall is tasteful to the point of predictability, with choices from the canons of Jackson Browne, Leonard Cohen, Paul Kennerley, Rosanne Cash, the McGarrigles, and Bruce Springsteen (though the Jersey boardwalk vignette by Springsteen's wife, Patty Scialfa, rates as an equal-opportunity surprise). Glyn Johns's production is airless and self-conscious, as the duo succumbs to the same sort of sandbagging that Daniel Lanois inflicted on the Neville Brothers.










from Stereo Review's
Sound & Vision
October 1999
---



Moreover, Ronstadt and Harris fail to project much in the way of vocal chemistry. Attempts to harmonize are awkward and sometimes grating, while their unison singing only accentuates their voices' incompatibility. At its best, this collaboration offers a few redeeming tracks, notably "Sweet Spot," a playful collaboration between Harris and Luscious Jackson's Jill Cunniff, and the Ronstadt-sung "He Was Mine," which, though hardly upbeat, is less ponderous than the sodden material that surrounds it.

                Parke Puterbaugh