Linda Ronstadt &
Emmylou Harris
Western Wall: The Tucson Sessions
(Asylum)

Fans receive two great talents for the price of one on this release that lets a pair of music's prime performers stretch their wings.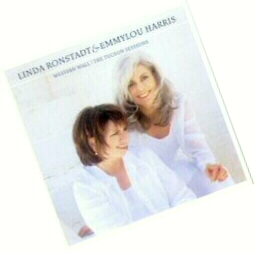 The fatalistic aura of the first track, "Loving the Highway Man," immediately indicates that there'll be a lot of surprises down the road: "Damned, damned, damned I am/ Loving the highway man..."
The bleak world view surges again as Emmylou takes the lead in her chilling composition "Raise the Dead." "Hank Williams died when I was five/ He sange 'I'll never get out of this world alive,'" she sings.
Linda's distinctive voice soars through Jackson Browne's "For a Dancer." The winsome women take turns singing






backup, as happy in that role as when they're center stage. Sometimes they swap lines back and forth, such as on the title cut written by Rosanne Cash. Their plaintive delivery sharpens the cutting edge lyrics: "I don't know if God was ever a man/ But if she was I think I understand/ Why he found a place to break his fall/ Near the Western Wall." A brash guitar intro paves the way for Linda's dynamic handling of "He Was Mine." Steel guitar laces the elements of the song together and counterpoints her aching vocal thrust. "Sweet Spot," written by Emmylou and Jill Cunniff, promises total commitment, while Leonard Cohen's "Sisters of Mercy" follows a soft and haunting pathway explored with sensitivity.

Masterful production by Glyn Johns sends walls of reverberating guitars over the Western Wall in "Falling Down," and Linda responds to the challenge with her most forceful delivery on the album. With the remarkable song selection, on-the-mark production and these two wonderful singers intertwining their talents, there's not a slack moment in this CD. This Wall has "classic" written on it.